Your requirements, our solutions
In Thiers, the capital of knife manufacturing, the knife manufacturing tradition goes back to the Middle Ages. At Wichard, we have been forging knife blades since 1919. Only forging allows us to obtain the best quality of blade by guaranteeing the internal cohesion of the metal and improving its characteristics thanks to the direction of the fibres in the material over the entire workpiece. A first blank is obtained by automatic upsetting to save material. Blade, bolster and tang are then entirely forged in a single die. The result is a homogenous metallurgical structure and a refined cutting edge that facilitates sharpening.
Wichard develops the manufacture of specific blades according to the plans and specifications requested: goldsmith's, professional, military, leisure, etc.
Examples of parts :
Chef's knives

Kitchen knives

Paring knives

Blades for military use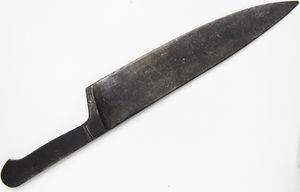 Chef's knives

Knife handle
Kitchen knives range with bolster
Standard products
For several decades, Wichard has offered a catalogue of standard knives for the sports, leisure and safety markets. The diversity of the ranges and materials used means that we can offer knives with different levels of cutting power and mechanical and corrosion resistance.
Their accessories (shackle key opener / spike tools, cases, etc.) also make them quickly indispensable.
Exemples de produits :
Offshore range for marine applications
Offshore Rescue range for rescue operations
Aquaterra range for outdoor leisure activities
Aquaterra hunting and fishing range
Aquaterra biosourced range