Your requirements, our solutions
In safety applications, the reliability of the parts is essential. Thanks to forging, Wichard products offer both reliability and mechanical strength.
Wichard is ISO 9001 and ISO 14001 certified.
Examples of use:
Components for PPE assemblage
Fall arrest systems
Building anchoring
Protective nets
Building safety
Personal safety
Examples of products:
Swivels
Anchoring parts for lifelines
Lock keys, padlock lugs
Handcuffs and handcuff keys
Staples for civil engineering (protective nets)
Components for PPE systems

Lock key
Part for tools assembly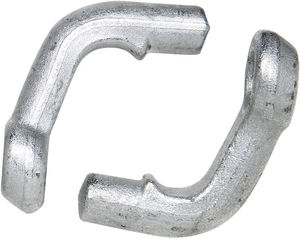 Staples for protective nets
Standard products
Wichard's standard products are popular for uses that involve the safety of people and property.
Examples of use:
Fall arrest systems
First-aid equipment
First aid gurneys and stretchers
Equipment for lifeboats
Personal protection
Working at height
Protective nets
Components for PPE assemblage
Stunt performers
Examples of products:
HR (high resistance) shackles, self-locking shackles
Fixed eye snap shackles, snap shackle with swivel eye, snap shackle with clevis pin shackle
Quick release snap shackles
Safety snap hooks, carbine hooks
Swivels
Fixed pad eyes, folding pad eyes, eye straps
Plain bearing blocks
Rings
Quick links: standard, large opening, delta, pear
Belay device for material conveyance