Specialists in forged safety parts for industry
Guidance and support from design to delivery of finished products
Our business lines
Our business lines make it possible for us to provide global solutions adapted to the needs of our customers: from the simple forged blank to the finished product. Our Forging and Industry activity enables us to meet their expectations precisely by drawing up the specifications together.
Our high standards have enabled us to become a recognised player in fields where quality and safety are essential, such as aeronautics, the automotive industry and the medical sector.
Tooling
Equipped with two high-speed machining centres as well as other equipment (electro-erosion machines), Wichard designs and produces its own forging and cutting tools in-house, enabling it to control both lead times and costs.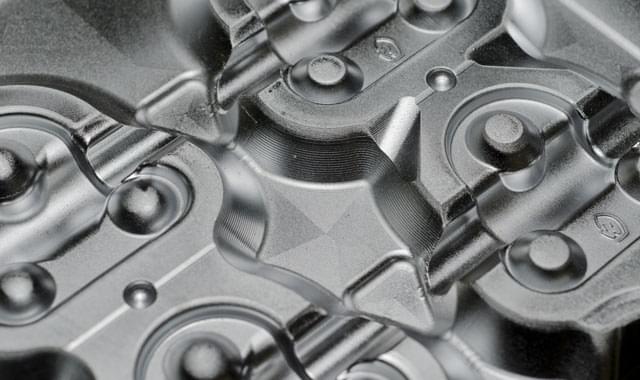 Forging
As specialists in precision forging, we forge small parts from 1g to 1 Kg. Our expertise in materials enables us to forge carbon steels, stainless steels, titanium alloys and aluminium alloys. Our automatic forging line and our series of drop hammers offer a varied production capacity between small, medium and large series.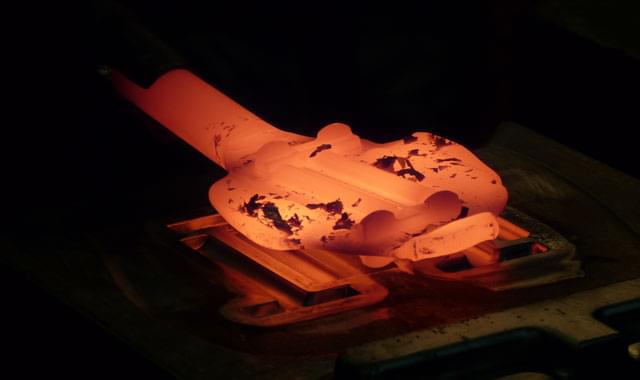 Treatments
We offer various processing for forgings, in particular heat treatment that may be necessary to facilitate their cutting. Thanks to its network of local subcontractors, Wichard can meet your specific needs in this area.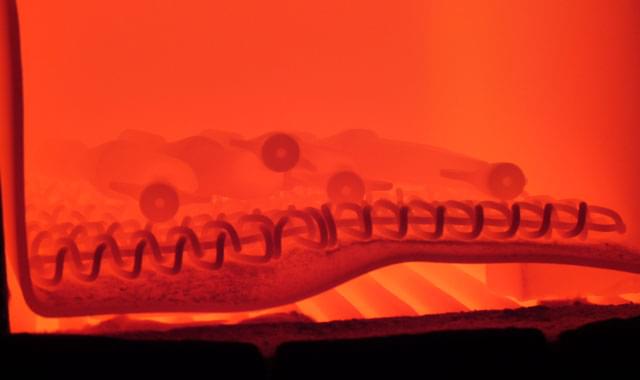 Machining
The machining of forged parts is integrated in-house, including drilling, milling and tapping operations. These operations complement the forging operations. Thanks to its 3-, 4- and 5-axis machining equipment, Wichard machines several tens of thousands of parts per year.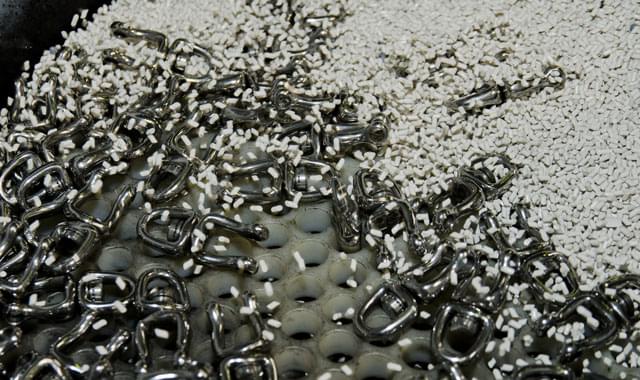 Finishing
An essential stage of a forged part, we have a complete finishing line for shot-blasting, sandblasting, micro-bead blasting, wear and polishing operations.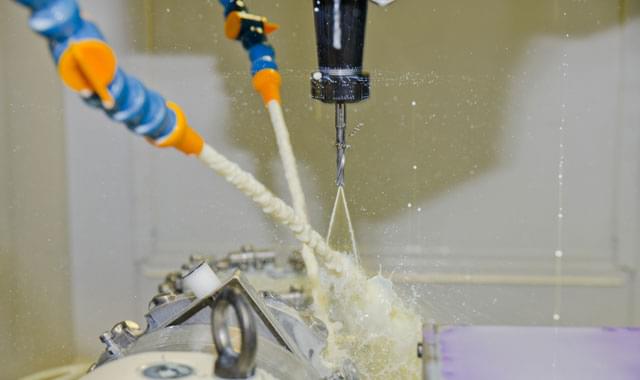 Assembly
Mounting, riveting, punching, crushing, welding are a few of the assembly operations that Wichard can carry out in its workshops. Wichard can also provide you with a global solution by assembling components and sub-assemblies.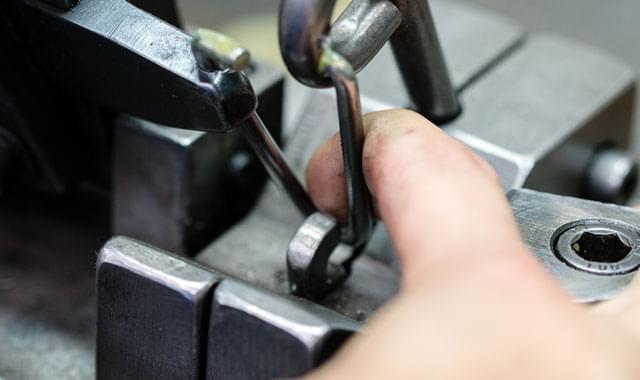 Our services
Guaranteeing the success of your project is our main objective, which is why we offer you a range of services such as project management, drawing up specifications in joint consultation, forge simulation, industrialisation and traceability.
Project management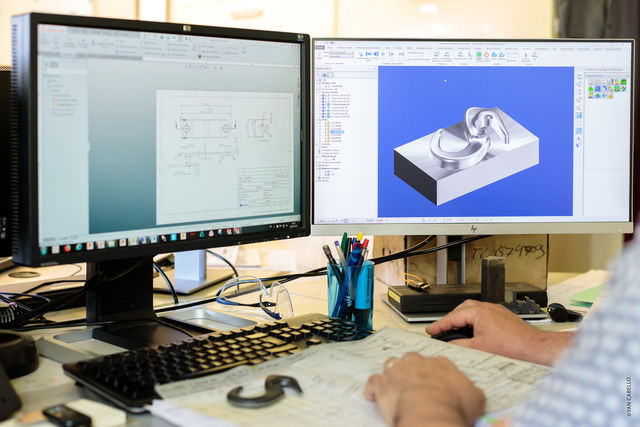 Project management
Project management allows us to dedicate a set of resources (studies, quality, production, quality control, etc.) to the different phases of the project in order to ensure tailor-made support.
On the basis of your specifications, each of our teams will provide its specific expertise: reengineering, design to cost, forging simulation, choice of materials, optimisation of manufacturing processes, etc.
Study and simulation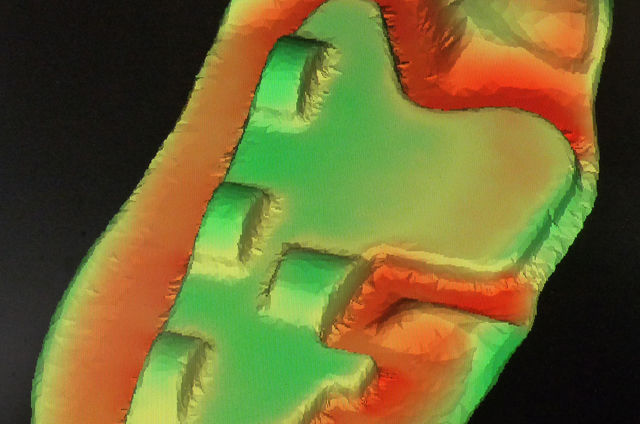 Study and simulation
Our design office is in constant contact with your teams and designs the tools as well as providing its expertise in the choice of materials for a perfect adaptation to the environment and your use constraints.
Forging simulations on specific software enable us to anticipate possible defects, limit product wear and tear and optimise material savings.
Industrialisation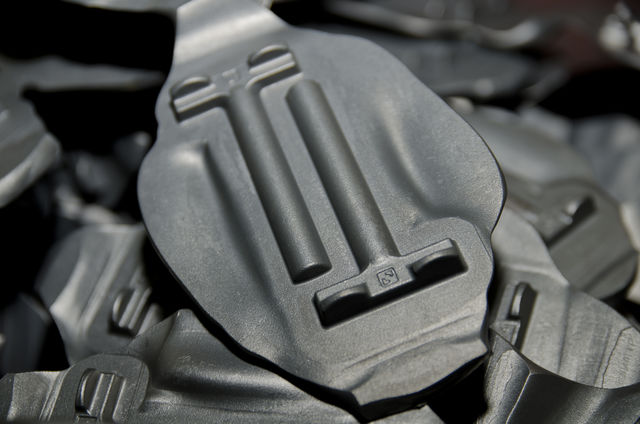 Industrialisation
Industrialisation, as a key stage of the project, is ensured through complete control of the manufacturing chain: from the design and manufacture of the tools to production.
The development of manufacturing ranges allows the number of operations and production flows to be rationalised in order to generate cost optimisation.
Subcontracting operations carried out externally are made possible thanks to a large panel of local partners - partners with many years of experience and managed internally.
Production batches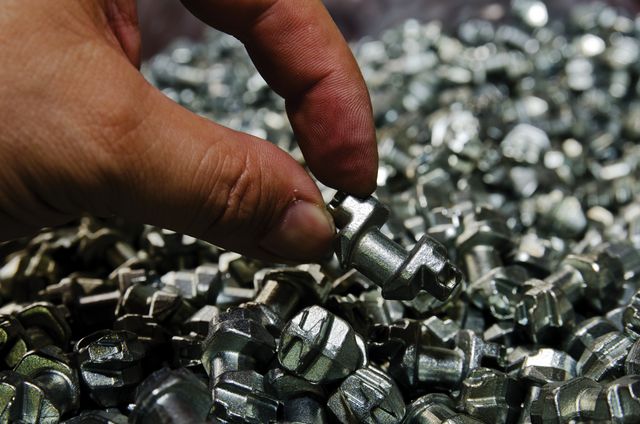 Production batches
On customer request, Wichard can set up the traceability of a production batch from the supply of materials through the sub-contracting stages to the final stages of production. We can also set up a complete dossier including destructive and non-destructive testing and offer the possibility of marking each production batch.
Our strengths

A high-performance industrial park
Two HSM (high-speed machining) centres for tool manufacturing
One 3, 4 & 5 axis machining equipment
Electroerosion machines
Drop hammers with inertia (from 650 to 2,000 Kg/m) and hydraulic power for forging parts from 1 g to 1,000 g.
Heat treatment furnaces
Double-acting automatic forging line for large series - output: up to 2,200 parts/ hour
Mechanical presses for workpiece trimming
Finishing workshops for polishing and finishing parts
Crack detection chain: non-destructive testing and quality control
Salt spray chamber: checking the parts for corrosion resistance
Machining and assembly workshops for standard parts
Special machines dedicated to special manufacturing jobs

Women, men and 100 years of know-how
Our teams are committed to customer satisfaction. Our shared values are a passion for forging, pride in our work, professional development, and craftsmanship.
60% of our employees are between 40 and 55 years old
Training time for a forging press worker: 3 and 5 years
Forging press team :

Continuous training through mentorship and tutoring
Youngest forging press worker: 36 years old - average age 44 years old among the forging press workers

Design office team :

Personnel specialised and trained in the thermal transformation business
CAD and CADD software - Creo and Solidworks, CAM software, forging simulation software

Quality control team :

Present at all stages of production from the supply of the material to dispatch
Young team: average age 35 years old
Composed of 1 quality control manager and inspectors, 1 HSE manager
COFREND certification: certification of personnel for non-destructive testing
Contact us
Wichard
1 ZI de Felet, CS 50085
63307 Thiers, France
Tél : +33 (0)4 73 51 65 00